Give A Man A Fish - 137 years later
Image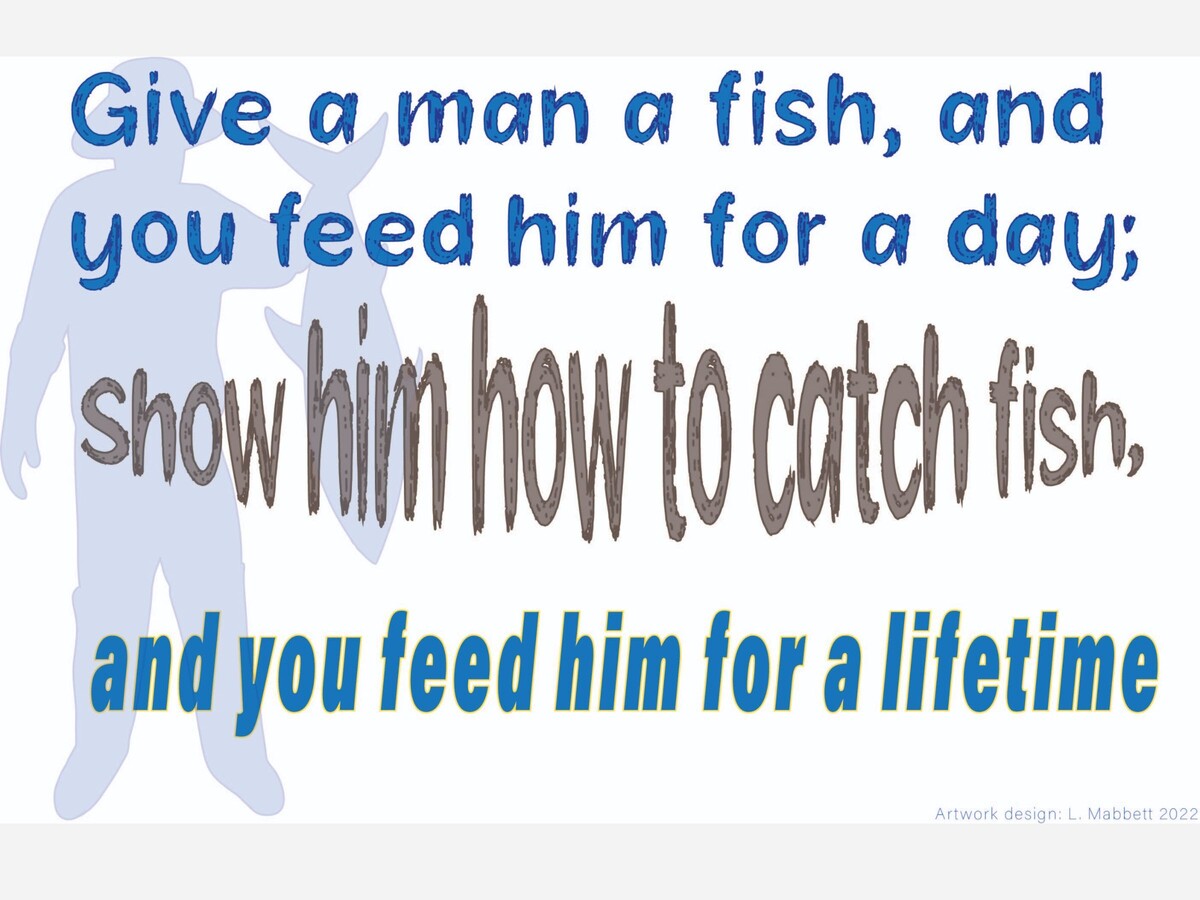 Anne Isabella Thackeray Ritchie was born June 9, 1837 and lived until she was 82 years old.
She was the daughter of British novelist William Makepeace Thackeray, the custodian of her father's literary legacy, and a published author of seven pieces and five novels including "Mrs. Dymond" Her 1885 novel Mrs. Dymond introduced into English the proverb, within Chapter XXII Page 184-185
"Give a man a fish and you feed him for a day; teach a man to fish and you feed him for life."
The phrase was then picked up in a book of essays written by M. Loane in 1911.
While online quote-source investigators attribute it to the 12th-century philosopher Maimonides; that is a vague link and not a direct reference to a fish. An older attribution in the Holy Scripture, both Old and New Testament could be invoked as inspiration but realistically not a direct reference.
ICYMI - her father William Makepeace Thackeray was a British novelist, author and illustrator. who wrote the 1848 novel Vanity Fair, in the style of his other satirical works.
---
The Salvation Army is present at seven locations in the San Fernando Valley.

San Fernando Valley Corps (salvationarmy.org)
Life Skills to Escape Poverty | The Salvation Army USA
Address

Community
Services Offered:
10158 Balboa Blvd
Granada Hills

Drop Box
Salvation Army Family Store

14917 Victory Blvd
Van Nuys

Food & Nutrition Programs
Seasonal Services
Casework Services
Christian Education
Women's Ministries
Worship Services - Sunday School
Worship Services - Youth Ministries
Worship Services - Children's / Teen
Worship Services - Church
Music & Arts Programs
Worship Services - Young Adult
Men's Ministries
Community Recreation Programs

21375 Roscoe Boulevard
Canoga Park

Salvation Army Family Store
Rehabilitation
Adult Rehabilitation Center

16934 Ventura Blvd.
Encino

Salvation Army Family Store
Drop Box

321 E. Magnolia Blvd
Burbank
6300 Sepulveda Blvd
Van Nuys

Salvation Army Family Store
Drop Box 

26801 Dorothy Drive
Calabasas

Residential Camping Activities

11301 Wilshire Blvd 
Bldg 212 & 207
Westwood

West L.A. Veterans Affairs Heathcare Center
When you donate
goods to The Salvation Army, those items are then sold at their Thrift Stores. And the proceeds are used to fund their Adult Rehabilitation Centers, where those struggling with drugs and alcohol find help, hope, and a second chance at life.
---

" M. Caron should be here," said Jo. " What is it he was saying in the studio last night, that an equal subdivision of material was an absurdity- that all gifts should be spiritual... and capable of infinite division?"
"I don't suppose even Caron could tell you the difference between material and spiritual," said Max, shrugging his shoulders. "He certainly doesn't practise his precepts, but I suppose the Patron meant that if you give a man a fish he is hungry again in an hour. If you teach him to catch a fish you do him a good turn. But these very elementary principles are apt to clash with the leisure of the cultivated classes...
---