Do You Have a Pyroceram Dish in Your Cupboard?
Image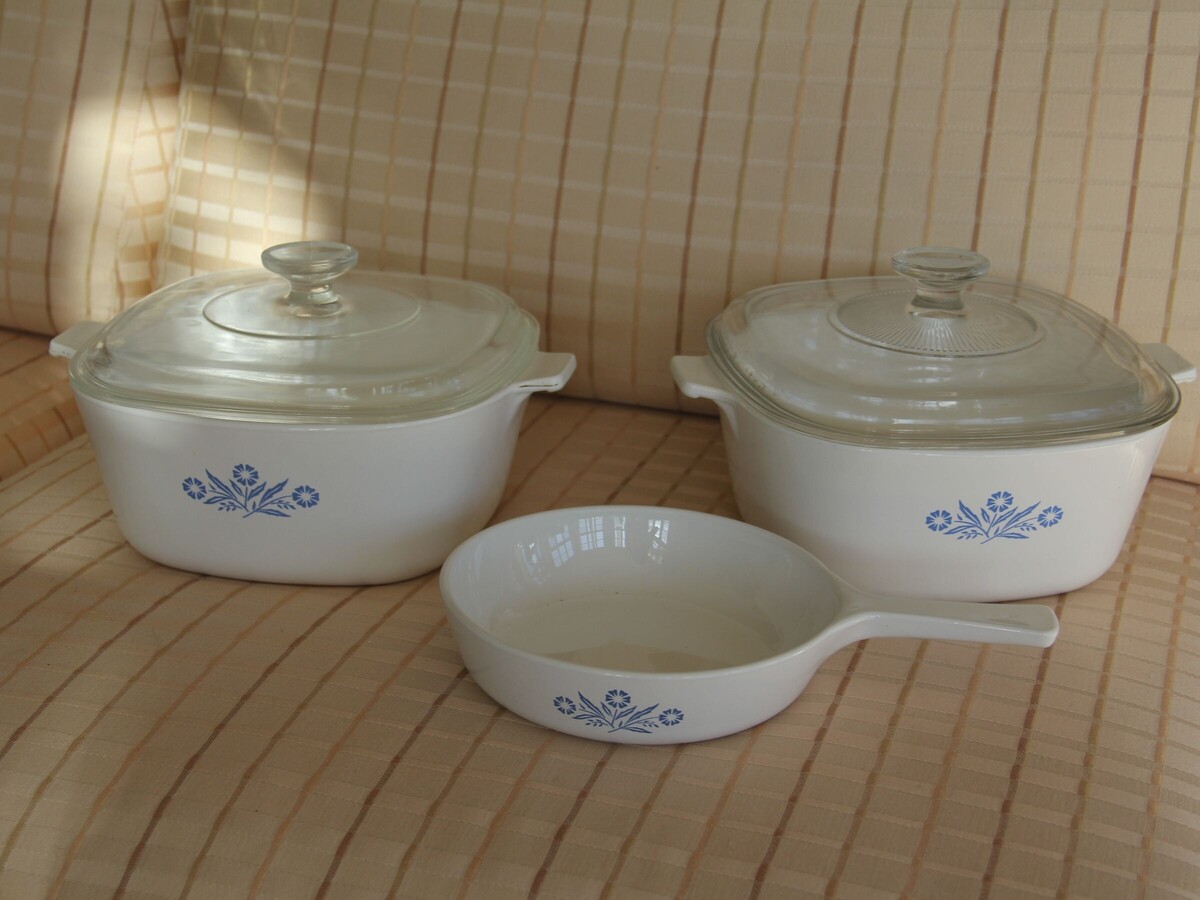 August 21, 2022 $7,000.oo Vintage Corning Ware Blue Cornflower 2-Quart Casserole Dish A-2-B without Lid
September 8, 2022 $6,000 Corning Ware Cornflower Blue Rare 1958 Original Vintage Pyroceram CorningWare | eBay
An estate sale picture illustrates the stability and popularity of CorningWare® . These pieces are over 50 years old! 
---
CORNINGWARE® facts:
Cornflower blue - petite blue posies on a solid white background - was the first pattern, it was produced for 30 years
The first trade stamp for the CORNINGWARE® was embossed on the bottom as "CORNING Pyroceram T.M. Made in U.S.A." and the style code. These 1957 pieces, with the distinctive mark are highly valuable and sought by collectors.
The first pieces with the simplistic embossed bottom stamp were made in 1958-1959. 
The signature stylized flame (looks like an enhanced asterisk) was added to the embossed signature in 1959, on the bottom of the 7" skillet, 9" skillet, and a 2 1/2-quart saucepan.
By 1960-1961 a "Blurry Blue" ink stamp was used rather than embossed bottom signature.
The "Pyroceram" reference was absent by 1961. The addition of "Made in U.S.A. and the return of style/model is visible on cooking dish bottom, in black ink now, thru 1966.
The "Cornflower" signature was added by 1966. 
It is these pieces, produced in the first decade of CORNINGWARE® which are most coveted. Additional details of the signature bottoms are available at the Corningware411 blog. 
The two inventors attributed to the Pyroceram designs are  
---
Where else is Pyroceram used?
Mirrors in astronomical telescopes.
Transparent variation was used by Corning France for their Visions cookware in the late 1970's
National Institute of Standards and Technology ( NIST ) certified Pyroceram9606 as a material for thermal conductivity measurements.
What is the difference between PYROCERAM (CorningWare) & PYREX?
CORNINGWARE® is generally more expensive than Pyrex
Older Pyrex dishes were made of glass with borosilicate but now it is tempered soda-lime glass.
Borosilicate glass is more durable than the tempered soda-lime glass
Pyrex is more susceptible to chips & cracks
Pyrex cannot be used on a stovetop or under a broiler
Older CORNINGWARE® can go from refrigerator/freezer to oven
How valuable are the pre-1960 pieces?  This year on ebay these prices were realized:
---