Secrets of Armenia Concert: 24 Armenian Composers
Image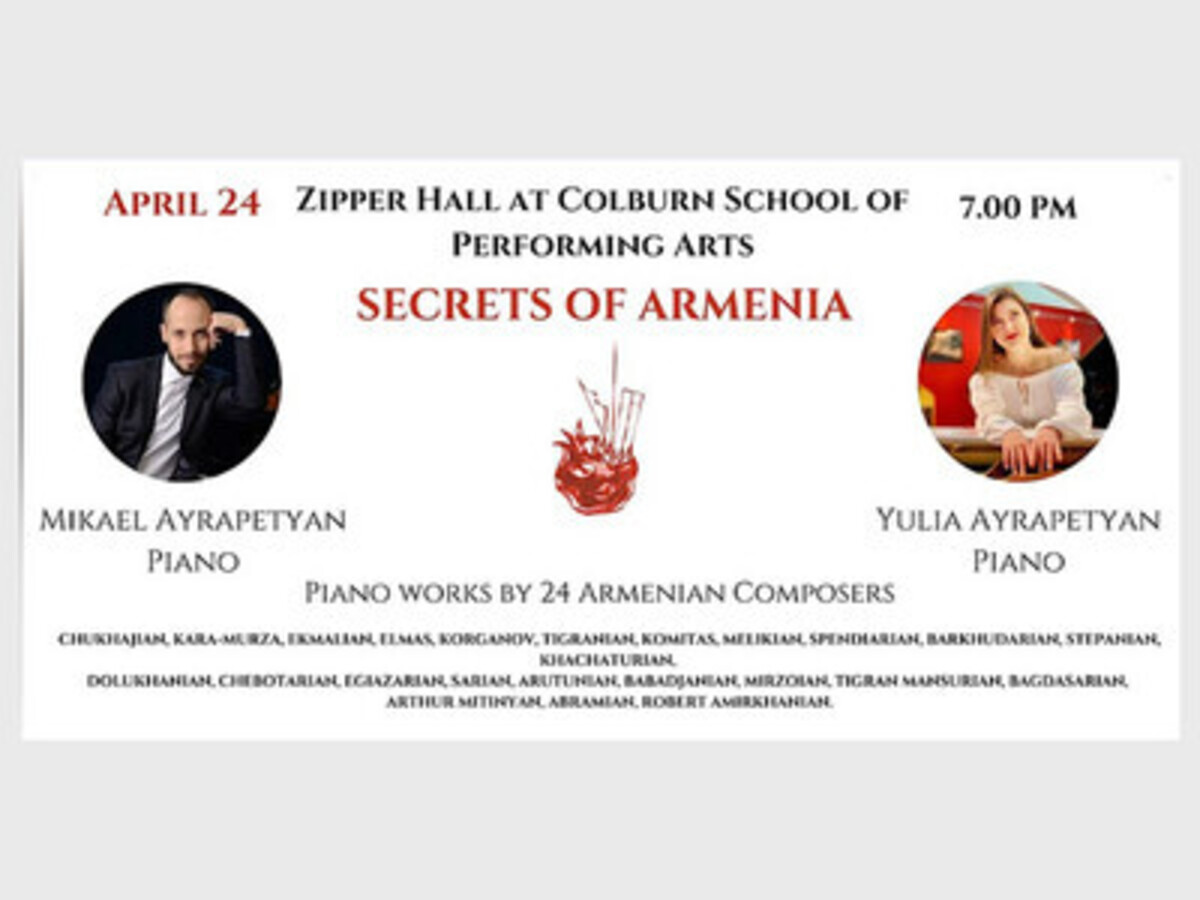 Music in Armenia has a long and rich history, stretching back to the Middle Ages and beyond, with its origins in popular folk-songs.
Tickets: thru Eventbrite
Mikael Ayrapetyan is an acclaimed Armenian pianist, composer, researcher and producer with a specific goal: to deliver hidden gems of the Armenian classical repertoire. Mikael and Yulia Ayrapetyan revives the forgotten names of composers by recording and performing world premieres of huge layers of compositions opening access to the treasury of Armenian music. Their recordings of Armenian music have a largest audience in more than 180 different countries.

The concert program will reveal the legacy of Armenian piano music over a 150-year period.

Program:
SECRETS OF ARMENIA. 24 ARMENIAN COMPOSERS. US PREMIERE! MIKAEL AYRAPETYAN (Piano), YULIA AYRAPETYAN (Piano)
USA and World premieres by:
CHUKHAJIAN
KARA-MURZA
EKMALIAN
ELMAS
KORGANOV
TIGRANIAN
KOMITAS
MELIKIAN
SPENDIARIAN
BARKHUDARIAN
STEPANIAN
KHACHATURIAN
DOLUKHANIAN
CHEBOTARIAN
EGIAZARIAN
SARIAN
ARUTUNIAN
BABADJANIAN
MIRZOIAN
TIGRAN MANSURIAN
BAGDASARIAN
ARTHUR MITINYAN
ABRAMIAN
ROBERT AMIRKHANIAN
Colburn School of Performing Arts
200 South Grand Avenue
Zipper Concert Hall
Los Angeles, CA 90012
United States