LEATHERNECK – Local Barbershop Examples "Adapt & Overcome"
Image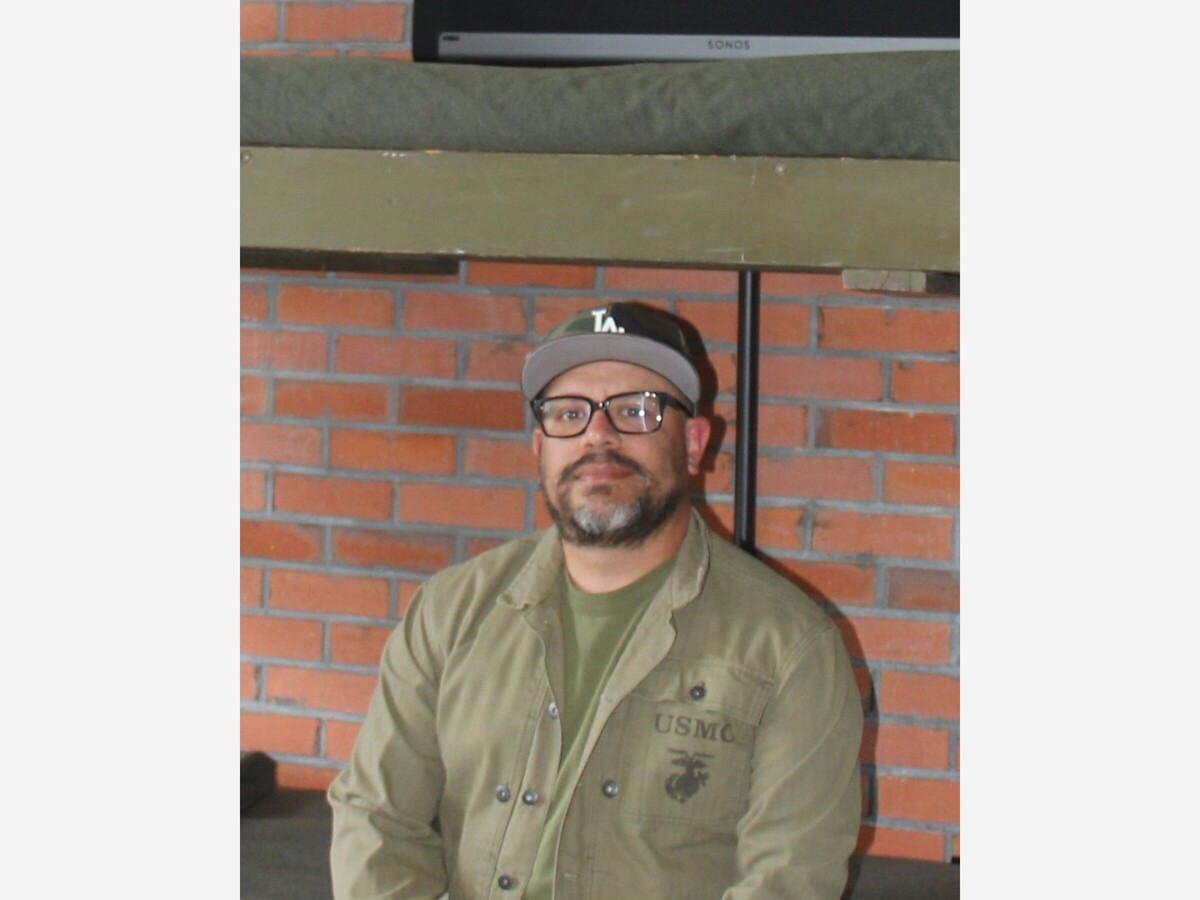 Esgar Reynaga opened his colorful and respectful Marine themed barbershop Nov 2019, but the history of the passion which brought him to 21627 Sherman Way began as a young man growing up in the San Fernando Valley. 
Born in Pacoima (home of other successful and notable people including Howard Huntsberry, Ritchie Valens, Judge Salvador Mendoza Jr, Danny Trejo, Dashon Polk, and Bobby Chacon) Esgar and his cousin would cut each other's hair to conserve money when they wanted to go out as teenagers. He took those clippers when he went into the military and while he was not allowed to charge, the convenience to officers and mates on board allowed conversation, friendships, notoriety, but most importantly honed his skills. His commanding officer once asked if he was going to open up a shop, when he left the military, what he would call it. Esgar jumped at the chance to play on the Marine chant and said "OOOHRahckas!
Esgar opened up to us about the issues of PTSD.  He has carefully decorated the shop for customers but for Veterans who need a safe place to open up and talk the decor and seating areas are designed to help that conversation.   Esgar's passion for veterans is palpable. He has a plan for the future growth of that concern....beyond the walls of the Leatherneck shop. 
Stop in, get your hair cut and ask him how YOU can become a part of that vision.  Remember the hauntings of PTSD have no appointment or set date to appear; but a neighborhood barbershop is a brilliant and refreshing safe spot in the path of our veterans and law enforcement.
As a side note, the naming of the shop was a nod to the historical terminology for a Marine:
We found this consolidated description via the SAR Orange County Website. Leathernecks - Sons of the American Revolution - South Coast Chapter (southcoastsar.org)
Beginning in 1798, "one stock of black leather and clasp" was issued to each U. S. Marine annually.
This stiff leather collar, fastened by two buckles at the back, measured nearly three and a half inches high, and it prevented the neck movement necessary for sighting along a barrel. It supposedly improved military bearing, by forcing the chin high, although General George F. Elliott, recalling its use after the Civil War, said it made the wearers appear "like geese looking for rain."
The stock was dropped as an article of Marine uniform in 1872, after surviving through the uniform changes of 1833, 1839, and 1859. But by then it was a part of American vocabulary, a word preserved, like so many words, beyond its original meaning.
Related article: Local Veteran Owned Barbershop Honors Fellow Marines Within the Shop