Connecting Canoga Park Project from L.A. Bureau of Street Services
Image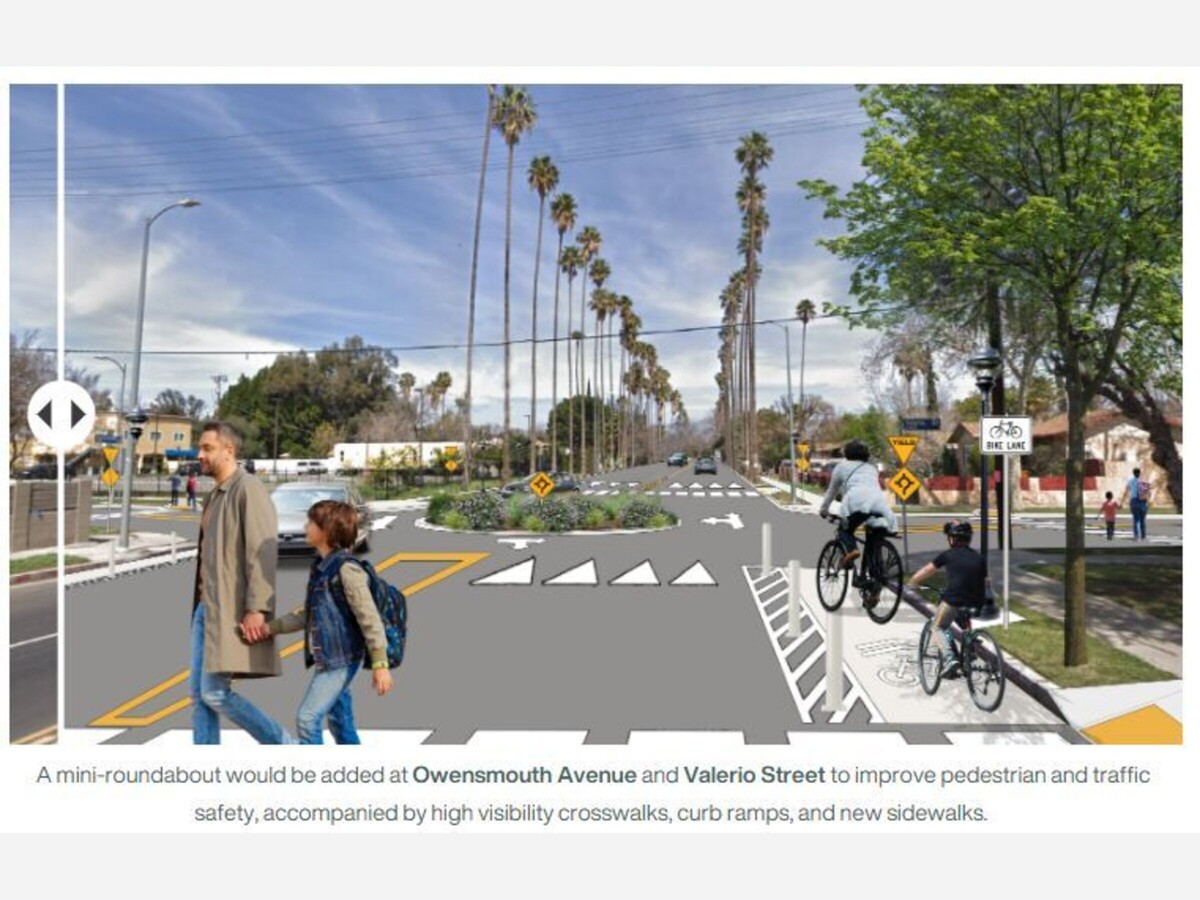 The Connecting Canoga Park project will transform 7 miles of streets in the heart of the Canoga Park community adjacent to the Metro G Line (Orange Line) Rapid Bus Corridor and G Line Pedestrian and Bike Trail (Orange Line Trail) in the west San Fernando Valley area of the City of Los Angeles.
A network of pedestrian and cyclist improvements including roadway lane changes, a protected bike lane (Class IV cycle track), bicycle routes (Class III bike facilities), speed humps, mini-roundabouts, and urban cooling features (hydration stations, shade structures, trees, and cool pavement) will provide community members with safer access to schools, businesses, civic institutions, recreational facilities, youth and senior centers, bus rapid transit routes, and entertainment destinations.
Next Steps: Construction 2025 - 2028
Construction is anticipated to start by August 2025 and to be completed by July 2028.
Next Steps: Design 2022 - 2025
The project will be managed by StreetsLA. As design concepts continue to evolve and get refined, StreetsLA will continue to engage our community partners so that the project continues to reflect the community's vision, while still delivering a project that conforms to grant requirements, complies with City policies and applicable laws, and meets the project budget and schedule. To get involved, see Upcoming Events and Connect with Us .
The entire timeline Connecting Canoga Park (arcgis.com)
---
Project Background
The improvements included in the Connecting Canoga Park project are based on concepts developed in the Sherman Way Station Urban Cooling and First/Last Mile Strategies Plan ('Urban Cooling Plan') completed in early 2020.
The Urban Cooling Plan's engagement process involved over 450 community members with multiple workshops, outreach events, and community surveys to determine community members' perceptions of the existing conditions and challenges to walking, bicycling, and accessing transit in the area.
---
In May 2021, Connecting Canoga Park is awarded $30.73M in funding from the Active Transportation Program (ATP) Cycle 5 to implement its proposed streetscape improvements.