"My Pledge to Our Veterans." - 2022 Theme VFW Patriot's Pen Scholarship
Image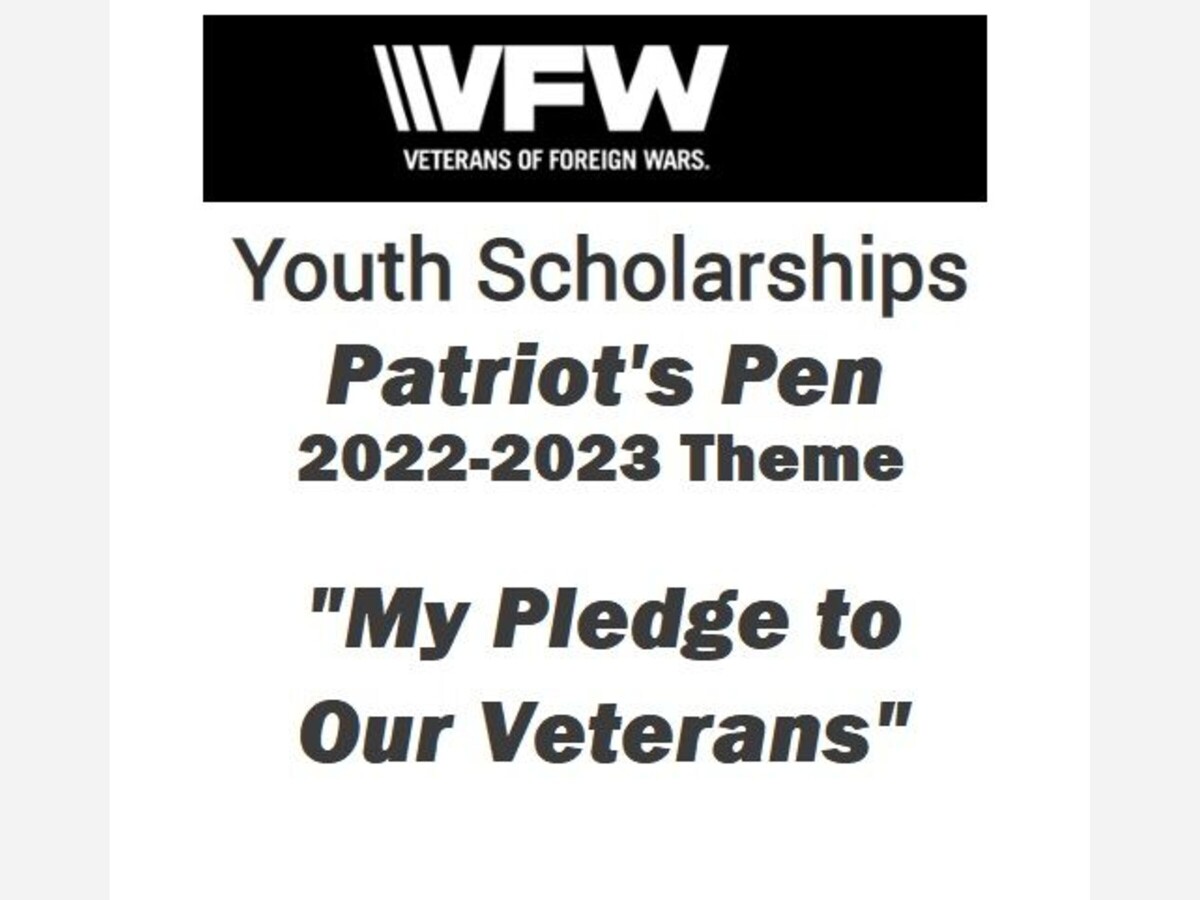 Patriot's Pen
The essay contest encourages young minds to examine America's history, along with their own experiences in modern American society, by drafting a 300- to 400-word essay, expressing their views based on a patriotic theme chosen by the VFW Commander-in-Chief. Before submitting your essay, read the rules and eligibility requirements, and find your sponsoring local VFW Post as applications must be turned in by midnight, Oct. 31. Download and complete the 2022-2023 entry form here.
The 2022-23 theme is: "My Pledge to Our Veterans."
Each year, nearly 68,800 students in grades 6-8 enter the VFW's Patriot's Pen youth essay contest for a chance to win their share of more than $1.4 million in state and national awards. Each first place state winner receives a minimum of $500 at the national level, and the national first place winner wins $5,000
Related articles:
Related Memorial Day Articles
Memorial Day at the Reagan Library
Memorial Day Placement 7am - 11am Saturday 5/28/22
Memorial Day a Review of Its Origins
82nd Fight Squadron Final Ceremony at March AFB
Grocers and Retailers Respect Memorial Day | San Fernando Valley News Portal (town.news)
Articles concerning Veterans
"Why is the Veteran Important?" - 2022 Theme VFW Scholarship
#StillServing: The VFW Podcast
Ace works with the VFW to give away 1 million American flags for Memorial Day tributes
LA Fleet Week Expo and Ship Tours May 29th
LA Fleet Week Expo and Ship Tours May 28th
LA Fleet Week Expo and Ship Tours May 27th
Why Does Mexico Fly the Flag Half Staff on May 2nd? What significance is May 28th?