"Why is the Veteran Important?" - 2022 Theme VFW Scholarship
Image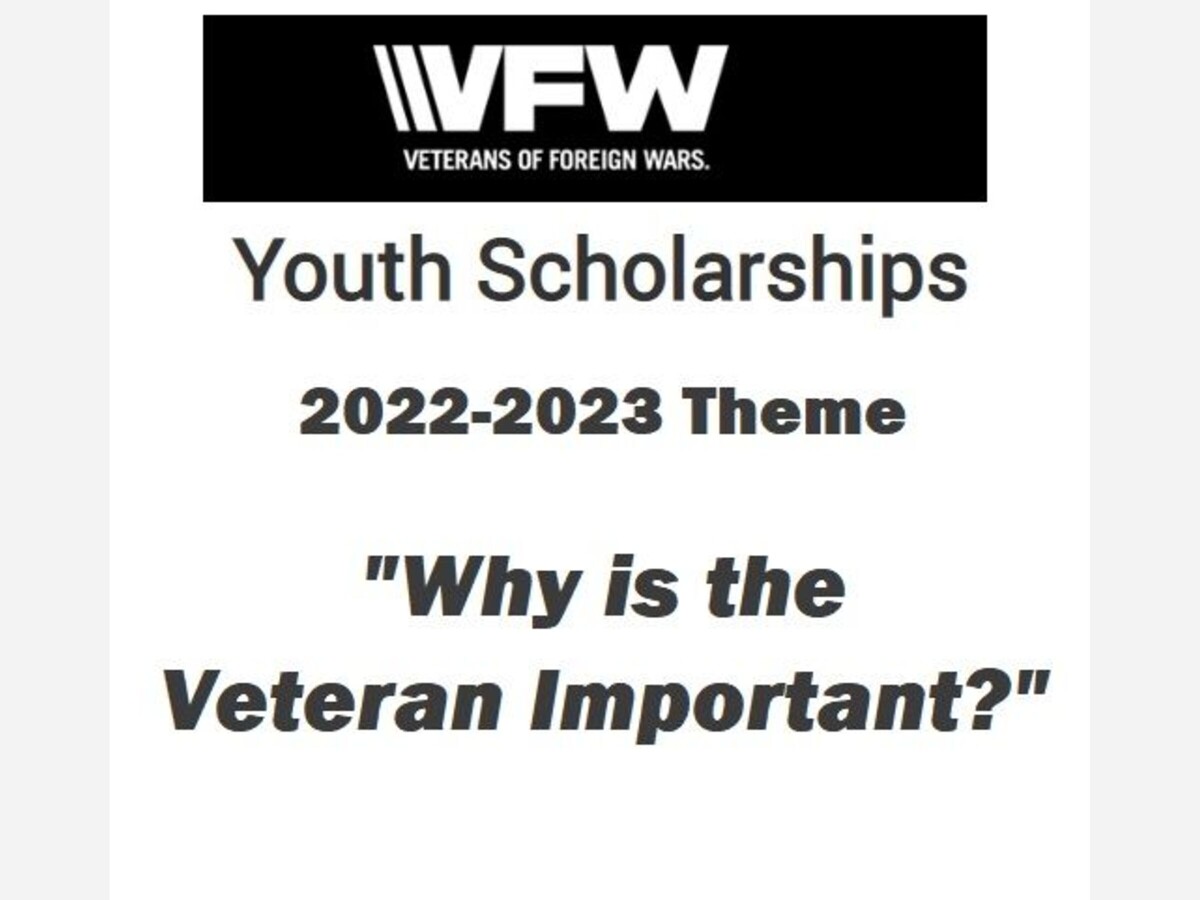 Voice of Democracy
Established in 1947, our Voice of Democracy audio-essay program provides high school students with the unique opportunity to express themselves in regards to a democratic and patriotic-themed recorded essay. 
If you are a high school student interested in a $30,000 college scholarship or a patriotic middle school student interested in winning $5,000, these scholarships may be for you.
Each year, nearly 25,000 9-12 grade students from across the country enter to win their share of more than $2 million in educational scholarships and incentives awarded through the program. 
The national first place winner receives a $30,000 scholarship paid directly to the recipient's American university, college or vocational/technical school. 
A complete list of other national scholarships range from $1,000-$16,000, and the first place winner from each VFW Department (state) wins at least a scholarship of $1,000. 
The 2022-23 theme is: "Why is the Veteran Important?"
Before submitting your essay, read the rules and eligibility requirements, and find your sponsoring local VFW Post as applications must be turned in by midnight, Oct. 31.
Download and complete the 2022-2023 Voice of Democracy entry form here.
---
Related articles:
Related Memorial Day Articles
Memorial Day at the Reagan Library
Memorial Day Placement 7am - 11am Saturday 5/28/22
Memorial Day a Review of Its Origins
82nd Fight Squadron Final Ceremony at March AFB
Grocers and Retailers Respect Memorial Day | San Fernando Valley News Portal (town.news)
Articles concerning Veterans
"My Pledge to Our Veterans." - 2022 Theme VFW Patriot's Pen Scholarship
#StillServing: The VFW Podcast
Ace works with the VFW to give away 1 million American flags for Memorial Day tributes
LA Fleet Week Expo and Ship Tours May 29th
LA Fleet Week Expo and Ship Tours May 28th
LA Fleet Week Expo and Ship Tours May 27th
Why Does Mexico Fly the Flag Half Staff on May 2nd? What significance is May 28th?
More News from Calabasas
RV Residents on L.A. Streets and the Vanlords While the 2016 City Council alteration of the Municipal Code, concerning people living in a RV on the street, may have had good intentions the repercussions 7 years later are huge.
Walmart Begins Rom-Com Shoppable Ad Format Romantic comedies have become synonymous with Hallmark and now Walmart is tapping into this relatable happy format while including a shoppable item option amidst the storyline